Java Games
---
Chat
General Hospital Chat(uses frames)
The General Hospital and Sonny and Brenda Chat Rooms are open all the time. If no one is there, put a message saying "I will be back at __:__ if you want to chat."
Or you may use these rooms to chat with new friends that have met on message boards. Simply arrange a meeting time with them and meet in one of the rooms.
New chat days and times for the IRC chat will be added soon
---
Polls
---
Back to Sonny and Brenda Online
---
E-mail me at HeatherC@serve.com with any comments.
You are visitor number

to the S&B Online Entertainment Page.
---
---
---
Please support our site and visit our sponsor today. Click the banner below.
Pacific Coast Internet Partnership program
---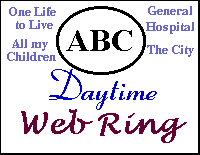 This ABC Daytime site owned by
Heather Conzett
Click for NEXT | RAND | NEXT5 Or to learn more about that
ABC Daytime Soap Ring

---
---

This Entertainment Ring site is owned by Heather Conzett.

[ Prev 5 | Prev | Random | Skip It | Next Page | Next 5 ]

Want to join the ring? Get the info.